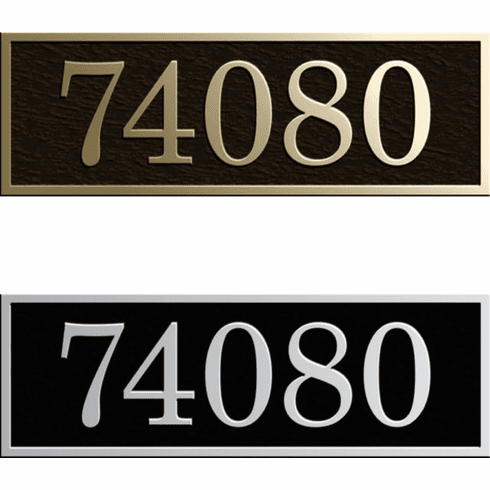 Custom Narrow Horizontal Rectangle Address Plaque
See the rest of our
standard address signs
.
This elegant narrow horizontal address plate is the perfect addition to a home or business for clear and polished identification.
Each address sign can be personalized with up to eight address numbers. Various border, color and metal options are also available for personalization. Build this address sign to complement your home or office.
The personalized Narrow Horizontal Rectangle Address Plaque is 16 inches wide by 6 inches tall, the perfect size for above a door or entryway. Mounting hardware is included, but the address plaque can also be lawn mounted for an additional fee.
Each address marker is crafted in the USA in an earth-friendly process from lead and mercury free alloy and is coated with a protective clear coat. Each address sign has a manufacturer's lifetime guarantee. Custom address plaques can be shipped to a front door in as little as eight business days. Make your home or business look elegant and sophisticated with the addition of architectural dimension with a custom address plaque.
Looking for the vertical version of this address sign? Don't miss the
Standard Narrow Vertical Rectangle Address Plaque
.
Don't forget to customize your address sign with the purchasing options in the drop down menus above! Standard Narrow Horizontal Rectangle Address Plaque Purchasing Options Details:
Address sign displays up to eight address numbers.
Address plaques are manufactured in aluminum or bronze metals.
All address plaques have five background plate color options and the natural metal finish for the raised address numbers and borders. The bronze address plaques will have the natural bronze text with a satin finish. Likewise, aluminum address plaques will have natural silver/aluminum text with a satin finish, as pictured above.
Three border options are available: no border, single line, and double line.
Mounting options include a lawn mount and two versions of a wall mounting system.
Mounting Options Explained:
Consider the desired appearance and location to be displayed when selecting the mounting option. All three mounting options are easy to install. Here is a little more information to make the best choice.
Blind Wall Mount
does not have visible screws on the front of the address plaque. To mount, simply drill holes in the wall, screw in the threaded dowels into the back of the address plaque, apply adhesive in the drilled holes and adhere the address plaque to the wall.
Screw Wall Mount
means the screws will go through the plaque and into the wall. This option will have four visible screw heads on the front of the address plate, framed by rosettes for a finished look. To mount, drill holes into the wall and screw the plaque to the wall. Adhesive or anchors can be used in the holes, if needed.
Lawn Mount
includes two lawn stakes, to easily place the address sign in the ground. Two screws affix the plate to the stakes and are not visible from the front of the address plate.