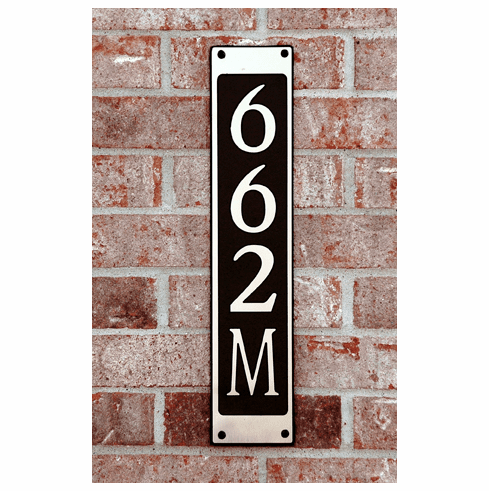 Standard Simple Vertical Composite Plastic Address Plaque
Be sure to browse our entire section of
plastic address plaques
where you'll find a variety of styles.
Dress up your house with a beautiful Dekorra address plaque in a timeless, metallic finish. Complement your home's exterior with this classic, rectangular-shaped marker that comes in your choice of three tasteful colors: copper/black, gold/black, or nickel/black.
This 4" W x 18" H address plaque displays your house number vertically and with panache in three-dimensional, metal-faced text and trim. Like all of our engraved address markers, this model includes stainless steel mounting hardware, which is not only attractive, but long-lasting, too.
Even though this address plaque is very good looking, it is surprisingly low-maintenance. That's because it's made of composite plastic that holds up to the weather, never needs painting, and it's beauty never fades. A product of the USA, it comes with a five-year warranty.
Best of all, you won't have to wait forever for this hot little number to be ready. This custom-ordered, designed-to-your-specifications address marker ships within five to seven days. In one short week, your house can be adorned right down to the last important detail.