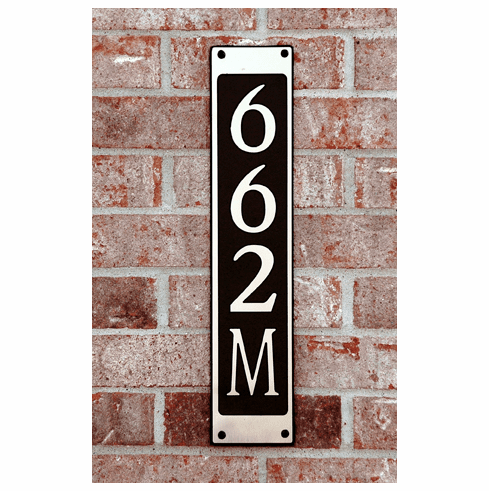 Standard Simple Horizontal Composite Plastic Address Plaque
Be sure to browse our entire section of
plastic address plaques
where you'll find a variety of styles.
For an elegant way to display a house number, look no further than this address plaque. An 18" wide by 4" tall rectangle, it's designed to mount horizontally on a wall. It comes complete with stainless steel mounting hardware.
Made in the USA from durable composite plastic strong enough to withstand adverse weather conditions, it is maintenance-free. It's available in copper, gold, or nickel metallic finishes, all of which come with a five-year warranty. The numbers are attractively arranged in a single line.
Your address plaque can be mounted on a variety of wall types and surfaces, including wood, stucco, brick, or siding. Your custom address marker can be gracing your home or place of business within five to seven shipping days after placing your order.