The Address Plaque Store site specializes in selling custom manufactured address markers for homes and businesses.
Address Plaque Store
Clean Air Commerce LLC
dba Address Plaques Dot Net
2266 Monitor St.
Dallas TX 75207
(469) 713-1636
addressplaques@cleanaircommerce.com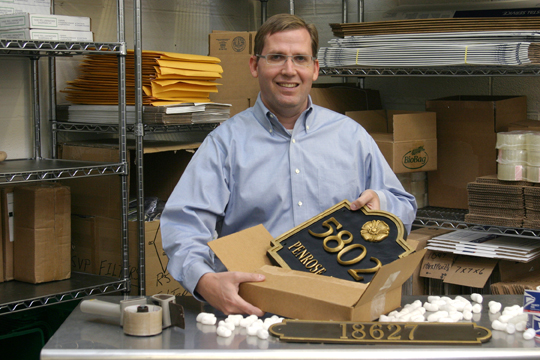 Return Policy
We have a 60 day money back guarantee. If you would like to arrange a return, please contact us by email
BEFORE
you send it back. This is so we can make sure you are shipping it back to the correct address and to track your return. For custom manufactured or engraved items, there is a 50 percent restocking fee for returns, since they cannot be resold. This includes all items that are made according to customer specifications and not "off the shelf". Any order cancellation of custom manufactured items must be made within 48 hours of placing an order, or a 50 percent cancellation fee will apply. Please note that metal address numbers are only manufactured after your order is placed, so they do indeed fall into the category of custom manufactured.
Delivery Time
Average delivery time for non-personalized items like sundials, birdbaths and weathervanes is five to ten business days to arrive to your home. Personalized address markers are not manufactured until after you place an order, so the delivery time is between two and four weeks.
Credit Card Charge
Your credit card statement will show a charge from Address Plaques Dot Net.
$8.95 US Shipping in the Contiguous United States
The Address Plaque Store offers ground shipping in the contiguous 48 United States for just $8.95. Alaska and Hawaii cost more because we ship UPS, and they do not offer ground service to these two states. Additional shipping charges will apply for orders of more than two plaques, a representative will contact you if you place a large order online for a shipping quote.
Security Guarantee
We guarantee that every transaction you make at the Address Plaque Store will be safe. This means you pay nothing if unauthorized charges are made to your card as a result of shopping at the Address Plaque Store. Under the Fair Credit Billing Act, your bank cannot hold you liable for more than $50 of fraudulent charges. If your bank does hold you liable for any of this $50, the Address Plaque Store will pay the entire liability for you, up to the full $50. The Address Plaque Store will pay this liability only if the unauthorized use of your credit card resulted through no fault of your own from purchases made at the Address Plaque Store while using our secure server. In the event of unauthorized use of your credit card, you must notify your credit card provider in accordance with its reporting rules and procedures. When you make a purchase online with the Address Plaque Store, the transaction is encrypted and secure. You will see an icon at the bottom of your browser that shows this when you get to the page when you enter payment information. You will also see that the address begins with "https:" which means that it is a secure connection.