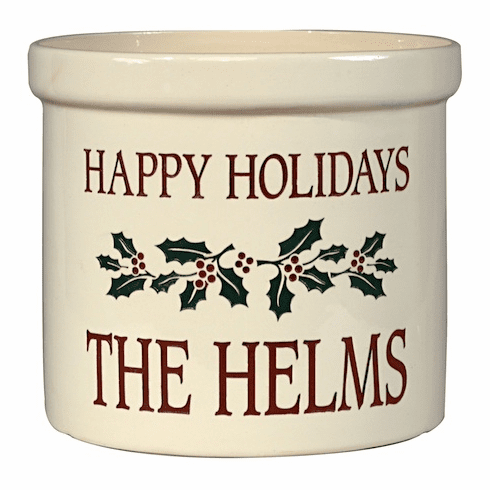 Holiday Holly 2 Gallon Crock
We carry a wide variety of
ceramic address markers
you would enjoy, as well as
welcome signs
and other
family plaques
.
This premium crock has a holly pattern and a happy holidays message that makes it perfect for the holidays. Use this crock as a practical decoration for indoors or out as a house marker, planter, decorative accent, or a holiday decoration. There are no limits to the potential uses for this crock inside or outside the home.
Personalize this two gallon crock with either 14 small 1-inch-tall letters, or 10 large 1.75-inch-tall letters, and choose black, red, blue, or green for the color. A lead-free glaze protects the holly picture, which is deeply carved and painted into the crock for a long-lasting image that will not wear off with use.
The shipping weight of 15.2 pounds reflects the sturdy construction of premium Tennessee clay used to make this crock, which is handcrafted in the USA. This crock measures 9 inches high and 9.75 inches in diameter, which is large enough to make it a practical container.
Holiday Holly 2 Gallon Crock Features:
Made in the USA
Measures: 9.75" Diameter
Handcrafted from Tennessee clay
Lead-free glaze
Deep, custom engraving
The abbreviation "THE" is NOT included so if you want yours to say "THE HELMS" you must type the word "THE" as part of your choice.