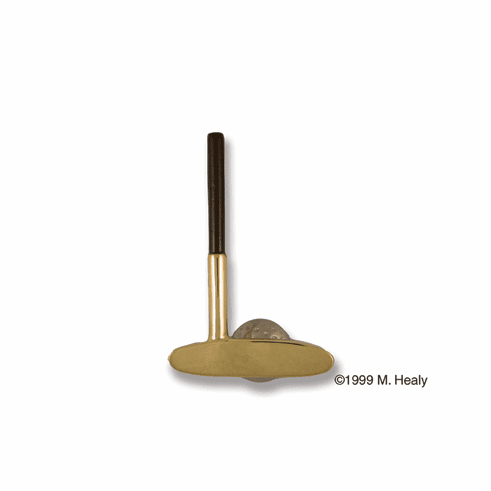 Golf Putter Door Knocker
See our full selection of
door knockers
.
Score a hole in one with the Golf Putter Door Knocker from Michael Healy. This classic doorknocker is the ideal gift for any golf enthusiast, featuring a lifelike putter and golf ball that bring tee time to any exterior door of your home or office.
Crafted from either nickel or oiled bronze, they're designed to seamlessly blend with any existing décor and make a unique and memorable gift for birthdays, Father's Day or any other holiday.
Each Golf Putter doorknocker has been coated with a baked catalyzed polyurethane, similar to the clear top coat on an automobile. This unique protective layer keeps these decorative doorknockers free of tarnish, rust and corrosion. Plus, it comes with two machine screws that allow you to quickly and easily mount it on any metal or wood door.
If you're looking for another sports themed door knocker, check out the
Brass Tennis Racket Door Knocker
.
Golf Putter Door Knocker Features:
Sand cast decorative nickel or bronze door knocker.
Measures 6.5" tall by 4.5" wide by 2" in depth.
Available in Brass/Nickel, Nickel Silver or Oiled Bronze.
Handmade in US by an environmentally responsible company.