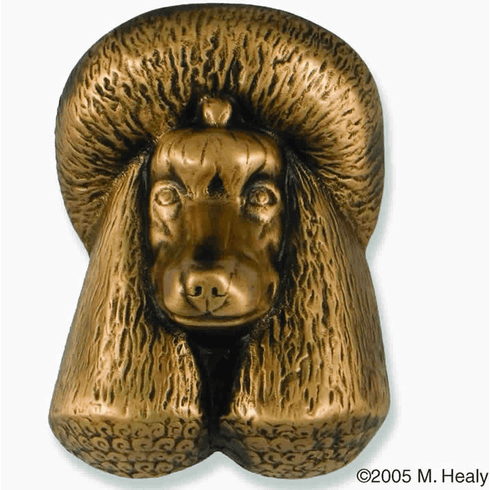 Poodle Door Knocker
Don't miss our complete store section of
door knockers
.
Go big or go home! That seems to have been the thinking behind the intricacy of design found in Michael Healy's Poodle Door Knocker. This one-of-a-kind doorknocker includes the delicate facial features of the breed surrounded by the classic larger-than-life show-dog hairstyle.
Forged from solid bronze, Michael uses an artisan process known as sand casting, employing the use of sand molds to shape metal. After polishing them to a high sheen, each Poodle Door Knocker is then coated with a baked catalyzed polyurethane, similar to the clear top found coat on an automobile. This sealant keeps it rust-free and shimmering for years to come.
Plus, each show-stopping doorknocker includes two machine screws that are designed to provide an easy installation on any metal or wood door.
Looking for another dog doorknocker? Check out the
German Shepherd Door Knocker
Poodle Door Knocker Features:
Sand cast decorative bronze door knocker.
Measures 5.5" tall by 4" wide by 3.5" in depth.
Available in bronze only.
Handmade in US by an environmentally responsible company.